Overview

BRIDGE DECK
Science office
Technical support office
Operations office
Nitrogen generator

CORE DECK
Core receiving
Core splitting/sampling
Core description
Microscopy
Paleomagnetism
Paleontology prep
Petrophysics
Stratigraphic correlation
Downhole measurements
Electronics shop
Science container
Lab chemicals

FO'C'S'LE DECK
Chemistry
Microbiology
Thin section
X-ray
Sample preparation
Conference room
Imaging office
Publications office
Staff office
Hospital
Lab chemicals

MAIN DECK
Mess hall, galley, laundry

'TWEEN DECK (forward)
Recreation

'TWEEN DECK (lower)
Computer & data services

HOLD DECK
Core storage

FANTAIL
Underway geophysics

Accommodations

Ship's systems
Core Deck: Downhole Measurements Lab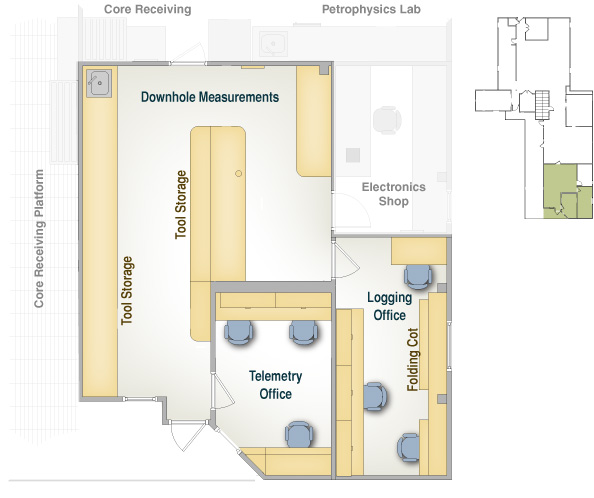 Function
Sediment and rock cores recovered during IODP expeditions provide key data to interpret the geology and biology of the subseafloor environment. However, core recovery is not always complete. In addition, core samples brought to the surface are not at their original conditions of temperature and pressure. Downhole measurements complement core sample analyses and are vital for obtaining continuous and/or in situ records of subseafloor ephemeral formation properties.

The Downhole Measurements laboratory is used as a staging and data acquisition area for several types of downhole measurements, including those taken by tools deployed on a standard 7-conductor logging cable (or "wireline"); tools that utilize the drill string, such as those used in logging while drilling (LWD) techniques; and tools that use a combination of the coring cable (or "sandline") and the drill string.

The IODP-USIO utilizes three main kinds of downhole measurements: well logs, formation testers and samplers, and long-term borehole observatories. The laboratory has the equipment necessary to measure a variety of physical, chemical, and structural properties, including the natural radioactivity, density, electrical resistivity, porosity, permeability, and temperature of the formation. In addition, there is equipment for measuring formation properties and collecting downhole fluid samples from the borehole and from the formation.
Instruments
Drill string and coring cable:

Advanced Piston Corer Temperature (APCT-3)
Sediment Temperature Tool (SET; has replaced the DVTP)
Water Sampling Temperature Probe (WSTP)
Please note that proprietary manuals may be available upon request and subject to limited use



Drill string

Logging While Drilling (LWD)
Equipment
Telemetry Lab Computers
LDEO PC-based Data Acquisition Computer (DAQ)
Schlumberger Wireline PC-based MAXIS Data Acquisition & Processing System
Schlumberger Transportable Wellsite Information System (TWIS) [LWD legs]
Logging Office Computers
Three MacPro systems for general use
One MacPro system with six 23" flat panel monitors for data visualization with software such as Corewall
Infrastructure
Wireline heave compensation system near the rig floor
Permanent wireline rig-up reducing operational time and adding flexibility of use
Schlumberger wireline and LWD data acquisition units on the Core deck
Dual elevator system for efficient handling of 6 5/8" drill pipe used for drilling and deployment of larger diameter logging tools
Pipe rackers that can carry up to 10,887 meters of 5" pipe or 5,644 meters of 6 5/8" pipe for drilling and logging
Virtual Tour
Downhole Measurements Lab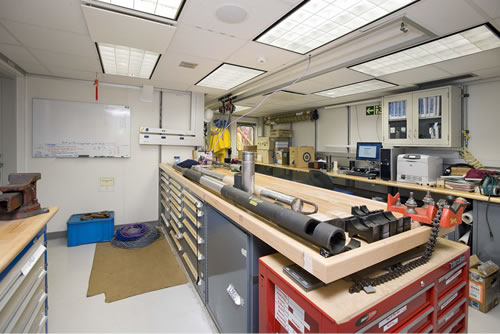 Downhole Measurements Lab panorama (Quicktime VR). Click and drag to pan around. Use the Shift and Control keys to zoom in and out.



Logging Office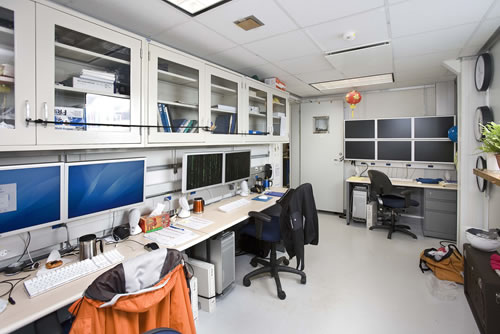 Logging Office panorama (Quicktime VR).